On course. On schedule. On track.
What would it be like if your company ran as efficiently as a high-speed train? With a top-notch program management office and talented program managers at the helm of complex cross-functional initiatives, you can eliminate competing deadlines and missed milestones, and ensure your journey to success is smooth.
Don't let your company run off the rails.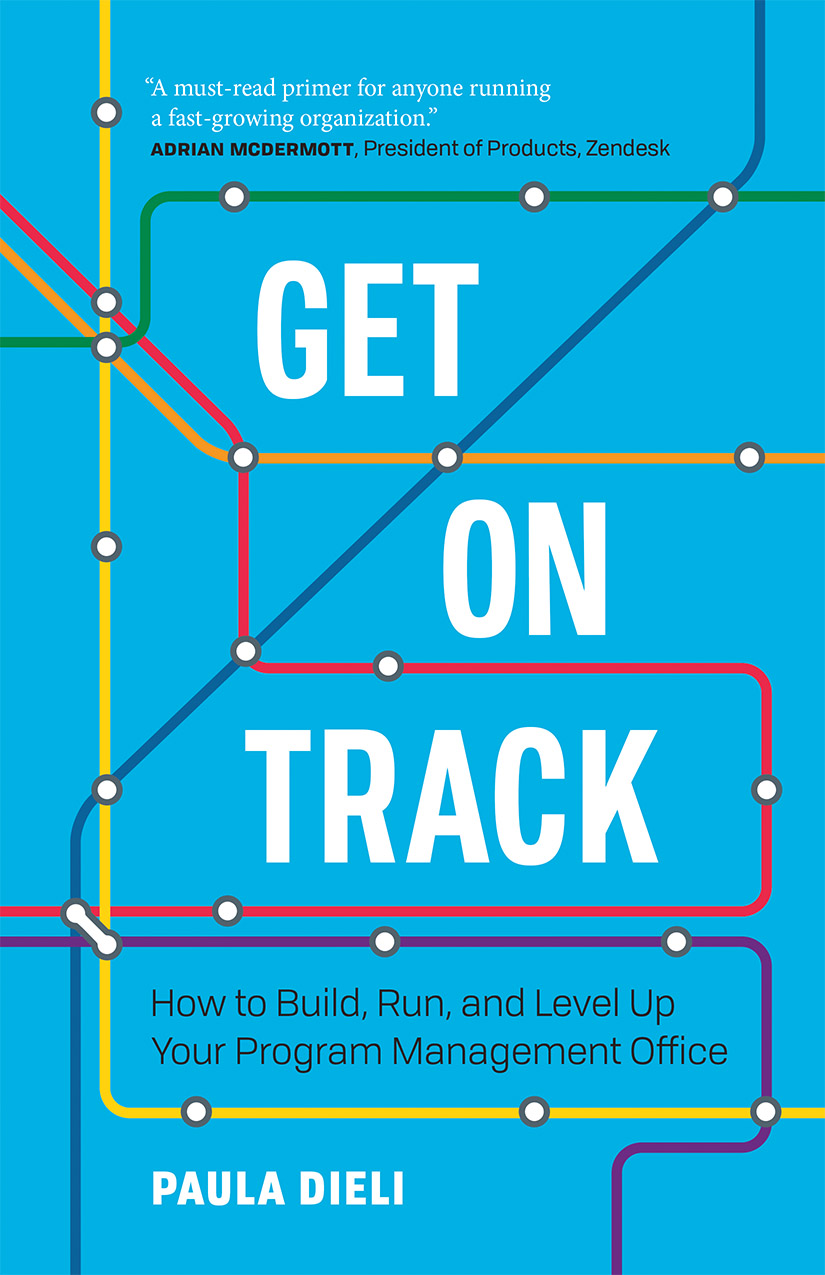 A large company spread across multiple internal organizations, time zones, and projects can be a little like a train without a conductor—moving, but prone to confusion, communication gaps, and at risk of veering off the rails.
If your organization is starting to flounder amid competing deadlines, strategies, and missed milestones, it's time to invest in your very own business conductor: a program management office. Get On Track is your essential field guide to building, staffing, and running a top-notch PMO, by software industry executive and program management specialist Paula Dieli.
Filled with essential tools, insights, and real-life case studies from her experiences in building and running PMOs for companies such as Zendesk, Adobe, and Macromedia, this is a first-of-its-kind handbook on when, why, and how to incorporate program management into a company. Aimed at both business leaders and program managers, this book shows you how to:
Organize, fund, and brand a PMO within a company
Set success measures, create schedules, and plan programs efficiently
Manage issues and risks effectively and know what to do when signals get crossed
Develop powerful and enduring relationships with key people
Harness the superpowers of successful program managers to stay on track and on schedule
If you're serious about meeting corporate objectives and creating an environment of continued success and achievement, a PMO isn't just a no-brainer: it's a critical component in ensuring you stay on track and hit your strategic goals reliably, on time, and with finesse.
A great program manager doesn't run boring status meetings—rather, they add real value to the business. Paula Dieli has built and scaled teams that excel at program management. Get on Track is an insightful reflection from all of her experience.
Amanda Kleha
Chief Customer Officer, Figma
Paula Dieli has written a must-read primer for anyone running a fast-growing organization. Chaos and failure are too often the parents of a program management function. This delightful guide, filled with experience and best practices from a proven authority, deftly captures the essentials of PMO creation, execution, and success.
Adrian McDermott
President of Products, Zendesk
Paula Dieli brings years of practical wisdom to life in Get on Track, leveraging her experience in successfully building Zendesk's PMO from scratch and making it a key ingredient in Zendesk's unprecedented growth and success. Paula provides deep insights and a guidebook on what any fast-growing company needs to put in place to be successful—you simply have to follow it.
Tom Keiser
CEO, Hootsuite
Get on Track presents the qualities of program management done right. Like designing software, elegantly implementing program management processes requires skill, empathy and patience. Follow Paula Dieli's lead, and you'll be able to run your program management office with care and efficiency.
Morten Primdahl
Founder, Zendesk
I will be hoarding a stash of Get on Track to give to every founder and leader who asks me for advice on how to scale and execute strategically. Having personally experienced Paula Dieli's transformative work in building the PMO function for Zendesk, I'm grateful to see Paula share her methodology, frameworks, and best practices in such an actionable and accessible way. If you want to make your most important initiatives successful and your cross-functional teams work well together—not to mention lower your overall stress—you'll want to read and apply the lessons from this book.
Anne Raimondi
Lecturer in Management, Stanford GSB and independent board director at Asana, Gusto, Patreon, and Guru
Get on Track is a great roadmap for starting up and managing a program management team within a company. Paula Dieli's real secret sauce is the relationships she builds across an organization and within her team—and here she gives you tools on how you can also lead your organization and team to successfully complete complex projects.
Joe Ferrero
Director of Sales Operations, Databricks
Interested in learning more about program management or learning about what Paula Dieli can bring to your organization? Use the email form below to reach her directly. And don't forget to follow Paula on Twitter, LinkedIn, and Medium to keep up to date with the latest trends and tips on program management.
© 2021 Paula Dieli - Get on Track